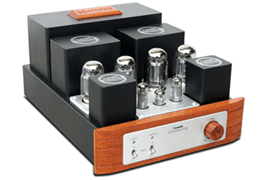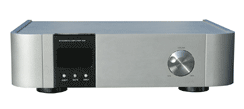 A08 is a dual monaural design integrated Amplifier. It adopted the 300W linearity power and ICEpower250A module as the power amplification.
ICEpower is a breakthrough of the technology which digital amplification is based on PAM (Pulse Amplitude Modulation) and overcome the shortages of D class amplifier's sawtooth wave distortion to realize the digital conversion with higher precision and lower distortion. At the same time, to express the advantages of small size, lower heat, and large power.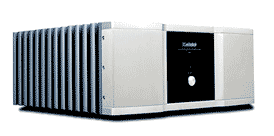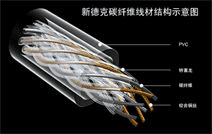 CFA-1 Interconnect Cable, Xindak latest products, adopts the mixture of special carbon fiber and metal conductance as the structure. As the positive polarity, the carbon fiber conductance is composed of four strands of wires, and each strand contains 6000 pieces of high purity and high saturation 6µm diameter carbon fibers. The negative polarity and which also functions as the electromagnetism shielding layer, is consisted of four strands. Each strand contains 19 pieces of 0.12mm silver-gilt OFC wires.
The cable adopts high grade CMC RCA connectors, ensuring a more reliable use and low lose of the signal.


Recommended Product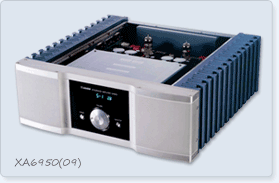 Latest Update
Apr 19 - Xindak attended De Doelen Lente HiFi show in Rotterdam 2011
Our distributor from the Netherlands Hifi4you presented Xindak products at the 2011 De Doelen Lente Hifi Show in Rotterdam from on 16th and 17th of April.
Feb 21 - Report from High End Prague 2011
Xindak Distributor Horizon Trading Prague S.R.O. attended High End Prague 2011 at Hotel Corinthia Towers Prague during 19-20th of February.
Jan 17 - Report for C.E.S and The Home Entertainment Show in Las Vegas 2011
Our US distributor Tailored Technology experienced a very busy week during the C.E.S and The Home Entertainment Show this month. The show was very successful and many people were highly praised Xindak's products.
Jan 12 - Norwegian Magazine Audio Review: Xindak XA6950(09)
It has been a while since we last reviewed this heavyweight budget amplifier – more like four years actually. Now it is back – more expensive, seemingly identical. But that`s only by appearance!
Jan 10 - Notice of Spring Festival Holiday
It's going to be our Spring Festival very soon. Xindak plan to set the days off from 22th January to 7th February.
Dec 10 - Report from Italian Distributor Palmtop Italia Srl --- Roma Hi-End 2010
Xindak's Italian Distributor Palmtop Italia Srl attended another important exhibition at Roma Hi-End 2010 in Rome on 4th and 5th December, and it was very successful.

Online Contact Form
If you have any questions and you can't use e-mail, please use the Online Contact Form on this web site.